The word paraphrase is derived from a Latin word "Paraphrasis", which means "Additional manner of expression". In simple words, when we explain a concept in some other words, without using the original words, it is called paraphrasing. Usually, it is done to explain the idea in a clear way. Generally, we need academic paper rephrasing to avoid plagiarism.
There are different reasons to do paraphrasing, sometimes it is done to avoid plagiarism, sometimes to make things easier to understand for low academic levels and sometimes it's done to back up a new idea or concept. Dissertation paraphrasing is the most common paraphrasing, but students find it really difficult. It is challenging to change the words but keeping the actual concept same.
Research Paper Paraphrase Process: 5 Practical Steps
The research paper is an academic document, which is about summarizing and paraphrasing your research and work of the other scientists. You may need to paraphrase a research paper to publish it in other journals or online platforms. But many people have no idea about how to paraphrase in a research paper. Here we have a 5 steps process, which you can follow.
Read the original text
You need to read the original text and understand that clearly. If you can't understand the meanings, you will not be able to paraphrase properly. Read the text many times and understand each and every word. If you cannot understand the meanings of some words, look for them in the dictionary. You have to do the same for thesis paraphrase.
Use appropriate paraphrasing technique
Now you have a complete understanding of the original text, start paraphrasing by using appropriate technique. You can go for a sentence by sentence paraphrasing or paragraph by paragraph. Experts recommend doing it paragraph by paragraph. Read a paragraph, understand it and write in your own words. Make sure you don't use the words from the original text. You can use the thesaurus as well.
Paraphrase properly
Don't replace the words with synonyms. You need to write completely new sentences. Sentence structure should be changed. Change active voice with passive voice and vice versa. Use all techniques, which make your content unique.
Match with the original
When you are paraphrasing, make sure you mention all the important points in the true context. If you will skip an important point, it will disrupt the flow of text and your paraphrasing will have many loopholes. When you are done, read the paraphrased content and make sure you have not added something extra and have not skipped any important point.
Edit and proofread
Edit the entire content and make sure it has no grammatical and spelling errors. You may have to change the order of the sentences or replace words with synonyms. Edit your content, until it seems perfect.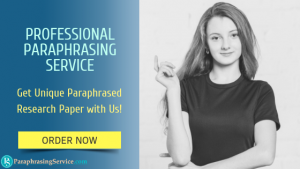 Dissertation Paraphrasing: A Few Examples
Paraphrasing is mostly used in dissertation and thesis when students have to relate their research with the previous researches in the same field. Dissertation paraphrasing UK is just like any other country. Here we have some examples for you, which you can find helpful.
Original text
---
Through the analysis process, a number of organizational factors were removed, principally because they relate more to organizational strategy and top-level decision making, and do not have a short to medium-term impact on employee behaviour. The organizational factors that remained in stage three-B are those most visible to the staff and have been shown to contribute towards a pro-environmental workplace culture.
Paraphrased text
---
The process of analysis is used to remove the features related to the organization. Basically, it was done to avoid the fact that they played a very important role in decision making and developing the strategy of the organization. However, the behaviour of employees is not affected by them. In Stage three – B, those factors were kept which were not only evident for the employees, but they were also playing their role in developing the working environment of that organization.
Original Text
---
The analysis showed beliefs have a clear influence on behaviour independent of other factors, but also showed other factors can override beliefs and change behavioural outcomes. Changing beliefs and personal norms in the workplace setting is known to be difficult, and it appears beliefs are more likely to respond to indirect influences of other factors, rather than direct attempts that target beliefs and attitudes. This led the analysis to conclude beliefs should be at the bottom of the key change factor hierarchy.
Paraphrased text
---
The analysis reflects that behaviour is affected by beliefs and it does not depend on any other thing. There are some other factors, which can alter beliefs and consequences of a particular behaviour. It is very difficult to bring change in personnel rules and principals at the workplace. It seems there are many other factors, which may affect the views of a person. Straight effects may not be able to alter the views and style of a person. It can be easily concluded from this study that, if we want to bring change, we have to start from the lowest and that is the views.
How to Avoid Plagiarism?
It is very important to avoid plagiarism, no matter what you are writing. Music, literature, scientific papers, everything should be original. But the plagiarism is a very sensitive issue when it comes to academic paper writing. Research papers, dissertation, thesis, and all other academic documents, must be free from plagiarism. You can avoid them by dissertation paraphrase. You need to write the content in your own words. You need to have a good vocabulary and strong writing skills.
Change the sentence structure and properly cite the sources. Replacing the words with their synonyms will not serve the purpose. Some students use software or online paraphraser for paraphrasing, but they change the context and meaning of the content. So, if you want to avoid the plagiarism, read the content and write in your own words. If you feel that your vocabulary is not good enough or your grammar is weak, seek for the dissertation paraphrase help.
Most Popular Question About Paraphrasing
Either it is a paraphrasing of thesis or any other document, people are usually confused. They have some questions in their mind, which need to be addressed.
Q #1: If I change the words, do I still have to cite the source?
When you quote the content from the source directly, you need to put the quotation marks. But if you change the words, you don't need to put the quotation marks, but you will cite the source in the text, footnote or references.
Q #2. If I paraphrase, it will be a plag?
No. If you properly paraphrase a text and cite the source, it will be considered plagiarism. however, you have to make sure that you have paraphrased the content properly. It is written in your own words and style and the sentence structure is also changed.
Q #3: If my paraphrase consists of several sentences, should a citation for the original source appear after each sentence?
No, the citation will appear at the end of the paragraph or the bunch of sentences. If you have used the content at different places in your thesis, you have to paraphrase for a thesis and cite it every time.
Difference Between MLA And APA Style Paraphrasing
When you paraphrase research paper, you have to keep in mind that either it is in APA style or MLA style. They both are different formats, and when it comes to paraphrasing, there are some key differences.
| APA Style | MLA Style |
| --- | --- |
| When it comes to in-text citation, the format of the APA style is Author-date. The last name of the author and the year of publication is used. | In MLA paraphrasing, the last name of the author and page number is used, for in-text citation. |
| The page having sources is used at the end, in APA style paraphrasing and it is called as "references". | In MLA format, the page having sources is called "Work cited". |
| The document, which you are Paraphrasing APA style will have four parts, Title page, abstract, main body, and references. | In MLA style there are only two parts of document i. e. body and work cited |
These are some key differences between the two styles. When you are paraphrasing documents in APA style, you need to keep them in mind.
Paraphrasing: Why Is It Better to Use a Professional Service?
If you are struggling with research paper paraphrase or need to paraphrase your thesis. It is not an easy job. It is better to hire professional services. Many people cannot understand that how professionals can them. Let us help you to understand it.
Everyone does not have the writing skills, which are required for paraphrasing a primary source in the thesis. Students have a very limited vocabulary and weak writing skills. They cannot use grammar properly, which leads to paraphrasing with a lot of mistakes. On the other hands, professional writers have good writing skills, vast vocabulary and a strong grip on grammar. They can provide paraphrasing help with perfection.
Students give a lot of time to their research and when it comes to writing up, they have very limited time for thesis paraphrasing. Professional writers have years of experience and skills. When you wonder how to paraphrase thesis in such a short time, they are your only hope. They know paraphrasing techniques and can write paraphrase your thesis in a very short time.
Another reason to hire professionals is to avoid plagiarism. If you paraphrase your content, but cannot do that properly, you may be accused of plagiarism. Plagiarism is not accepted for any kind of content, academic papers particularly. Professional services make sure that the content they write for you in free from any kind of plagiarism. Some students choose to paraphrase thesis online, but they replace the words with synonyms only. The software cannot match the perfection which a professional writer can offer.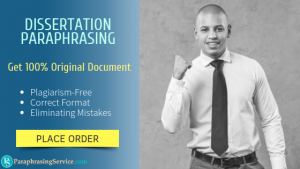 7 Benefits of Our Paraphrasing Service
You can ask our writers to "rewrite my paper". We offer a number of benefits to our clients.
Expert writers. We have expert writers for your paraphrasing needs. They are highly qualified and are from various academic backgrounds, which enables them to paraphrase content about any subject.
Editors and Proofreaders. Not only writers, but we also have editors and proofreaders in our team. They ensure that all the documents delivered to clients are free from any error and mistakes. They also format the document according to its nature.
Plagiarism free content. We ensure our clients that all the documents written by our writers are original and free form plagiarism. We check them for plagiarism before sending them to our clients.
Affordable. Our services are affordable of a common person. We make sure that student can pay our economical fee from their pocket money. If you compare our charges with the quality of our paraphrasing services, you will find them very cheap. We all offer discounts to our clients.
Timely delivery. Time is very important for the students, particularly when the submission deadline is approaching. We understand the problems which students face. That is the reason, we promise timely delivery of the documents, no matter how short the deadline is. We make sure that you get the document within the time frame, which you have given to us.
Privacy. We are concerned about the privacy of our clients. No details about our clients, personal or professional, are shared with anyone at any cost.
Support. Our support is available to help you round the clock. They have answers to all your questions. You can send them an email or call them, they are always there for you.
Worried about dissertation paraphrasing? Our expert writers are here to help you. Send us your document, we can paraphrase it in no time!