The Dark Side of Plagiarism
Everyone knows that stealing is wrong. Plagiarism can be defined as taking someone else's work without referencing them. It can have devastating effects on your reputation and even get you expelled from college or fired from your job. If you want to avoid adding any plagiarised content to your paper, you need to be sure you know how to paraphrase. Paraphrasing is the act of explaining someone else's ideas using your own words. It is an effective way to prevent plagiarism and ensure your paper is original.
At our professional services, we know that paraphrasing is an important and often difficult task and while there are some services that work online, these services can not compare to hand rewriting. This is why we are here to provide unique services that combine the ease of online services with the detail-oriented results of hand rephrasing.
About Our Services: Effective Assistance
At our professional company, if you want to know how to rephrase a paragraph, an entire document or any other piece of written text, then our online services are here to help you. We offer professional paraphrasing services and can even show you how to rephrase a website so you have new, fresh, SEO filled content to keep your website relevant. We understand the importance of such services for academic, business and general services and are here to help you no matter what you need.
We work with our rockstar team to deliver top-notch services. Our team consists of:
Our professional editors have a vast experience editing written content. They have an excellent eye for detail that helps them polish any type of document. Our editors will conduct a comprehensive check for language, grammar, and terminology to ensure your paper is ready for publishing. Our team of skilled editors will help you improve your writing to make sure your paper is perfect. The editors will read your text several times to make sure it is perfect.
In our online services, we have a professional team of diverse writers, bloggers, and journalists, to name a few. Each one of them is specialized in various fields so they can help you write any content you may need. Our expert writers are proficient English native speakers with excellent writing skills. Their flair for language and rich vocabulary guarantee you will always receive an original, well-written document free of plagiarism.
Our friendly support team is available online 24/7. They work around the clock to help you sort out any issue, question, comment or complaint you may have. You can reach our support team via email, phone, or chat.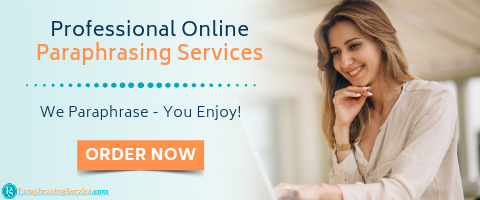 Getting Started with Our Professionals
With our paraphrasing services getting help online is easy, all you need to do is contact us through our easy to use the website and let us know about your upcoming project and what you need to be done. From there we will get to work and match you with one of our professional writers who will do all of the rewordings or summarizing what you need.
There are a lot of features that make us leaders in the field of writing. Take a look at them:
Unlimited revisions
Additional research if it is required
Money-back guarantee
On-time delivery
Affordable pricing
Special discounts
Secure payment
Direct contact with our writers
Our services understand how to deliver quality, word for word or sentence for sentence online paraphrase that will meet your needs and we will deliver this final document right to your inbox whenever you need it by.
Our Professional Summarizing Rewriting and Retelling Writers
If you want to be sure your paper is original, readable, coherent, and relevant, we are your best option. Our professional team of writers and editors in online service will work hard and even go the extra mile to ensure your paper is perfect. They will even do additional research to ensure you get the results you are looking for. Our editors will revise your text as many times as needed until you are satisfied with it. With our paraphrasing service online by your side, you can only expect to get an excellent, original paper free of plagiarism. Make sure your document is spotless by ordering our services.
When you turn to our professional company, summarizing and retelling services you know you are turning to the right professionals for the job. This is because we have some of the best writers in the business on our service for paraphrasing.
Highly trained professional writers who understand the art forms of summarizing and rephrasing documents.
Detail-oriented professionals who will deliver an edited and properly formatted final document free from errors.
Experts at creating completely unique and grammatically correct documents that will do their best for you.
Deadline oriented professionals committed to submitting your finished document on time.
Experience the skills of our team yourself by turning to our expert
writing service!