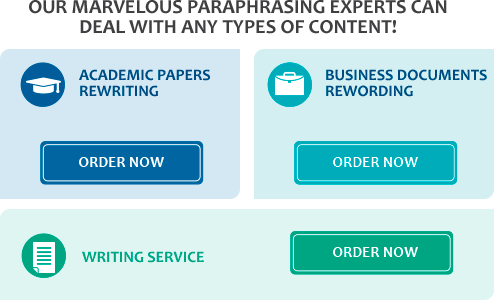 If you are in need of professional-grade summarizing and paraphrasing agency then you are in the right place. Here, we specialize in helping you with the most important documents for any purposes.
Paraphrasing and Summarizing: Knowing the Difference
At our company, we know that sometimes people get confused when it comes to understanding the difference between paraphrasing vs summarizing. We are happy to break down the details when it comes to using paraphrasing and summarizing website so you can decide which type of order is best for you:
Paraphrasing – When the meaning of the text is still the same but you do not copy the exact words of the author. The length and the detailing are pretty much the same. The word count is almost the same.
Summarizing – It requires you to shorten the text. It gives that abridged version. Let's say you are asked to sum up a 1000-word text, then you will have to shorten it to 50 to 100 words if it is a summary. You only include the key details. The word count decreases depending on the requirement.
What is better: summarizing vs paraphrasing?
---
You need to express in other words when you want to use the ideas and specific content of another writer without resulting to plagiarism. Another is when you want to cite the work's author without using a direct quotation. If you feel like the specific words used by the other writers are difficult for your target readers to understand, you may want to change words in the text. Last is when you have to integrate your own ideas and analysis.
When should you outline the information in your paper?
---
You should do it when you only want to get the key details of the content or when you want to get the main ideas. If there are several resources and you want to provide an overview, summing up the texts is the way to do it. Another reason is when you have to condense the text.
But one thing never changes, whether you have to make summarizing and paraphrasing worksheets unique, you always have to cite the original work and give proper credit.
Types of Services We Offer
Our experts are used to helping with the following types of papers:
General Documents
We work with a team of professionals with decades of writing experience. So for your needs for a high-quality written blog, article, website content or other writing needs you can rely on our expertise to get the task done.
PowerPoint Presentation
We work a lot with slides and can do summarizing and paraphrasing powerpoints for your seminar/workshop, lectures, pitches and more.
Business Documents
Do you need to express differently a Memorandum of Understanding, policy document, terms and conditions, feasibility or business proposal/ plan, employee recruitment document, staff handbook, mode of operations and more; then let our team of business writers give it the touch of class it deserves.
Content
You might have an accounting, technical, science document that you need help to put in other words to reflect the current realities of your business. We have just the right professional with a relationship whether for an academic or professional assistance need and for to your discipline in getting the task done.
Whether you are in need of professional quoting paraphrasing and summarizing, we are here to assist you with what you need. This is why we have created a variety of expert categories of work done all designed with you and your needs in mind. They include:
Professional for academic documents that you need to be re-written in time.
Academic summaries are written by expert writers and that capture the meaning behind any academic paper.
Business summarization from our professional writing staff. We'll do our best for you.
Business-centred service for your professional documents. Our writers know how to re-write documents properly.
General-purpose support from a truly talented professional writing team.

We know exactly how difficult and tedious it is to write content. In our company, we have been providing a wide range of services so we know how to give exactly what our customers are expecting from us. Just give us the instructions and the documents, we are always ready to help you.
In need of professional paraphrasing and summarizing activities? Contact us for more information and details.
Get in touch with us when you need help!