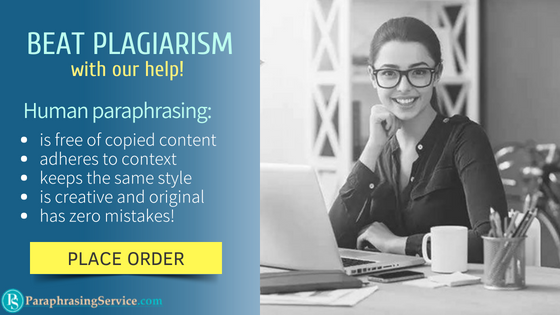 Rephrasing is repeating what someone has said or written to say exactly the same thing but using different words. This is often done to check someone's understanding of what has been said or to repeat what someone has written within an academic work while avoiding any form of plagiarism. It is also used online to prevent any penalties incurred from the search engines due to using copied material.
Plagiarism is illegal as well as being just plain wrong, other peoples work is covered by copyright and you should not just blindly copy what other people have done and use it as your own work.
Key Samples for Original vs. Paraphrased Sentences
Here are some paraphrasing sentences examples to help guide you when trying to rephrase an author's work:
Original text:
Financial sector revolution, particularly in the banking industry, has brought about innovative ways of doing business and for accessing loan facilities for small and medium scale businesses today (Economic Tales, 2018).
Paraphrased sentence:
The Economic Tales reports in its June 2018 edition, saying congrats to small and medium scale enterprises as the banking industry experiences a transformation that promotes the ease for commercial activities and accessing loans.
Original text:
Today's smartphone market has created endless opportunities for smartphone lovers to carry out multiple functions with a single device. Your smartphone can serve as a mobile office, health watch, remote control and a mean for communication.
SmartWise Watch. Modern Trends in the smartphone business: More than just a Smartphone. New Jersey. June 2018. Vol 123, No. 67.
Paraphrased sentence:
The SmartWise magazine in today's edition gives a rundown of the several benefits you enjoy with a smartphone beyond calls and internet access. Your smart device could just be your health tool, remote-controlled device, and office-on-the-go.
Original text:
The wearable technology involves the use of technology in helping to promote healthy living for society today. With a single wearable device, you can monitor your vital signs and avoid the risk of a heart attack and other debilitating ailments. The device could include a shirt, jacket, wristwatch, a belt, shoes, etc.
Paraphrased sentence:
You can now monitor or know your health status when you purchase and use any of the numerous wearable technology tools that help you check you delicate body organs for the avoidance of heart attack and other life-threatening ailments. Wearable devices exist for shirts, wristwatch, belt, shoes, and jackets can help keep you in shape always.
Original text:
The ketogenic diet promotes a means to live a more healthy life. ketogenic diets have to do with the body being in the state of ketosis where one eats less of protein foods, fewer carbohydrates, and more healthy fats.
Paraphrased sentence:
Eating foods high in healthy fat should replace foods high in protein and carbohydrates when trying to attain a state of ketosis. For a person on a ketogenic diet knowing the type of fatty foods and consuming healthy fats should be the goal.
Original text:
Overcoming the plastic money scourge and learning to say no to yet another purchase could be quite tasking for impulsive buyers. For some persons, not having a credit card could be the only way of ensuring a better financial future.
Paraphrased sentence:
If you really want to cut down on impulsive buying and build a more promising financial future then it might be necessary to avoid having a credit card.
Why Do You Want to Paraphrase Sentences?
To paraphrase a sentence is something that is often required when writing an academic piece; you may wish to use what another author has said but reword it to better suit or reflect the style of writing within your essay. You may also want to reword the sentence purely to avoid issues with plagiarism or to just demonstrate that you have a full understanding of what the original author was trying to say. You can learn more about plagiarism paraphrasing as well.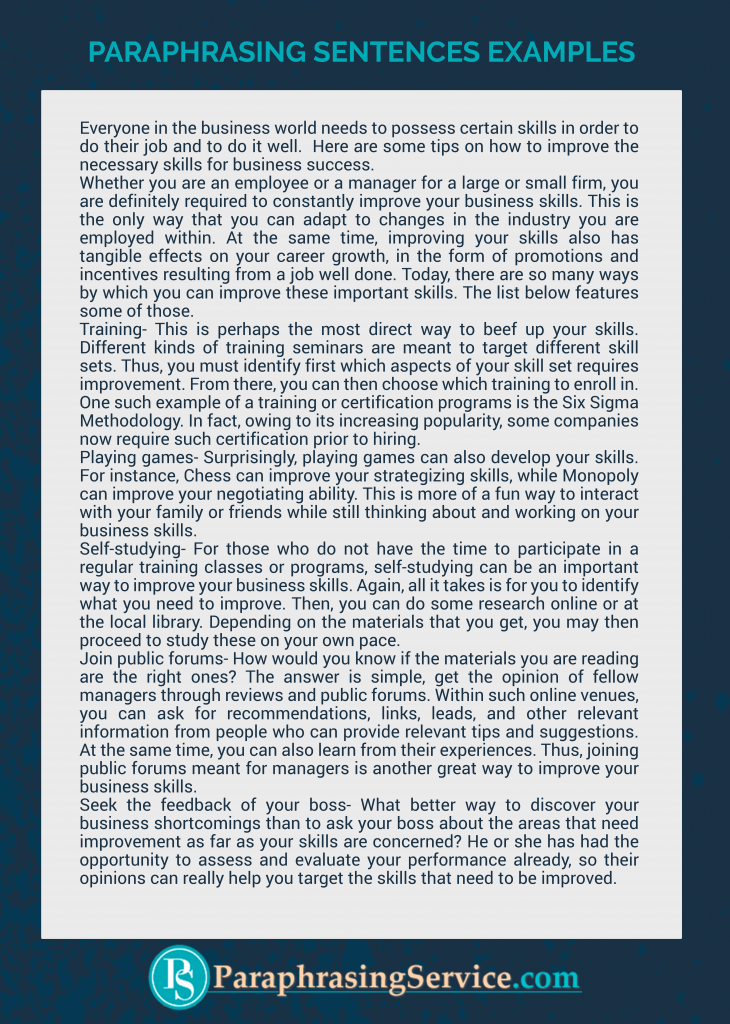 How to Go about Rewriting Sentences
If you have a sentence for rewriting the easiest way to approach it is to read the sentence several times ensuring that you fully understand it.
Make a few simple notes or bullets of what the points are that are raised within the sentence and then rewrite the sentence using those bullets rather than looking at the original.
Then review the original and your rewritten sentence side by side to ensure that they look nothing alike.
If you have used many words that are the same when paraphrasing sentences, change them even if they are in a slightly different order from the original
Rephrasing does not just mean taking each word in turn within the sentence and swapping it for another word with a similar meaning from your thesaurus. And good examples of paraphrasing can demonstrate it perfectly.
This often results in a sentence that will no longer reflect the original meaning as "similar" words can often completely change the overall meaning of a sentence.

Help with Refrasing a Sentence
If you need someone to "paraphrase this sentence for me" then you can come to our highly professional and very experienced online paraphrasing service. Our writers are all graduate degree qualified and will work within their areas of expertise ensuring that they fully understand the sentence. They also know how to use paraphrase in a sentence and are able to provide you with correct citations in any required academic style.
Unlike other writing services that outsource their work or rely on rewriting tools, we prefer to work with expert writers instead because we value quality output.
We know that our clients come to us because they are expecting accurate results hence we pair them with writers who are knowledgeable about their topic and their background for better output.
Aside from having professional writers, we offer various rewriting services like article rewriting, content rewording, and essay paraphrasing just to name a few.
We also have proofreading and editing services for you to use so you don't have to worry about grammar mistakes or wrong message being delivered to your target audience.
You can use our service if you need paraphrase essay online or reword content. We even offer unlimited revisions too so that you will get the best paper from us. We take pride in the fact that we are able to deliver the best output to our clients so you too can make use of our paraphrasing service online.
We guarantee that you will get the best value for your money when you choose to hire us because we have reliable writers working for us who will be assisting you from start to finish.
Our work is quick, accurate, error-free and covered by our full guarantee, you have nothing to lose by contacting us for paraphrasing sentences help.