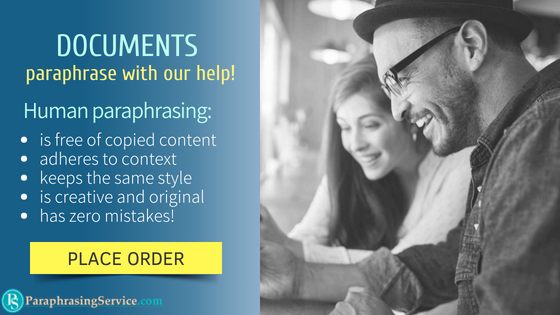 If you are looking for information on how to paraphrase documents, then you are in the right place. Our company will not only be able to help you by providing you with expert editing services but we can help you with tips that will show you how to rewrite documents.
Quality Tips on How to Paraphrase from Our Expert Team
At our professional writing company, we know all there is about rephrasing and summarizing documents and are not only here to provide you with summarizing and paraphrasing services but we can also help you learn paraphrasis with our expert tips.
Always start the rewriting process by reading the entire document so you have a general idea of the main point of the entire document so you know about the main point you are trying to portray. This is the basic way to start if you want to know how to paraphrase an article or full document.
Start sentence to sentence so you can make sure you have an understanding of all of the points in the document.
If you know how to rephrase a sentence, then you will be able to re-phrase the entire document. Take the idea of each sentence you look at and put it into your own words; don't just exchange a few words here and there with synonyms. Your new sentence should have a completely different sentence structure and shouldn't look like the original sentence at all.
If you use a direct quote, make sure that you cite those quotes, otherwise it's not re phrasing. Try to avoid this whenever possible and keep direct quotes to a minimum.
Try to improve the language in paraphrasis to make the new document better and more engaging.
If you are looking to know how to paraphrase a paragraph; read the entire paragraph first to get the idea of the point being portrayed in the paragraph and then try to rewrite it in your own words; this will help make the new paragraph unique and help it look unique from the original document.

Turning to Us for More Help
If these tips aren't enough to help you move forward with rewriting your documents, you can always turn to us for help with your articles or documents.
Just contact us through our easy to use platform to find out how to paraphrase with our help!