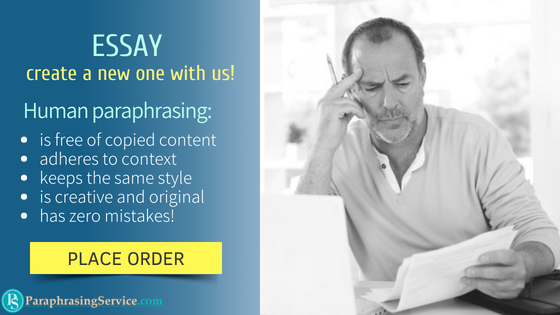 When you rephrase work you repeat it using different words but retaining the original meaning, often with a similar length of writing. This is completely different to summarizing which some people confuse it with, as summarizing seeks to draw out just the important points and communicate them within a much shorter version.
Re-phrasing is used extensively within writing, especially online, when writers are attempting to paraphrase plagiarism. Plagiarism is copying other people's work which is both illegal and unethical.
How to Paraphrase in an Essay?
Rephrasing within an essay is no different to any other form of rephrasing. You may use it to repeat what another author has said without using their original words; however you should still give credit for the original ideas to the source of what you have rewritten. Your citation should typically follow the format of whatever style you have been asked to write in. So for MLA paraphrasing you would end your writing with: (Author Page Number).
Learning how to paraphrase in an essay or how to paraphrase in a research paper is not difficult, you just have to ensure that you do actually use different words when you write; this does not mean however that you work through your document and change each word according to the thesaurus. There are software packages called spinners that can do this for you but they almost always produce meaningless rubbish rather than preserving the true meaning of what you are trying to rewrite.
To really learn how to reword in an essay you have to really understand the original document. It is only by fully understanding it that you can then rewrite it completely from scratch which is often the best way, using your own words and writing style.
We Know How to Re-Phrase
If you are in need of online paraphrasing help or even if you are looking for someone to "paraphrase my essay" we have the skilled writers available to meet your needs. Our writers work in areas in which they hold graduate degrees so they are experts within their fields of writing; this ensures a full understanding of what they reword. They produce a clear and concise version of the original work retaining the original meaning without so much as a hint of plagiarism in the essay.
So if you are struggling with how to rewrite in an essay come to us and we guarantee your complete satisfaction as well as error-free work. We fully check every piece of work for plagiarism ensuring that your work will be free of any form of copying.

Here are our benefits:
Amazing discounts
Friendly customer support 24/7
Paraphrasing of any content
Plagiarism report
On-time delivery
100% unique papers
No need to wonder how to paraphrase in an essay anymore! Contact our team straight away!