Your ability to be able to paraphrase content is an invaluable skill that you need to have. When you are submitting any academic paper, you have to make use of your paraphrasing skills to avoid plagiarism. Unfortunately, there are still a lot of students who are struggling when it comes to paraphrasing.
Why do you need it? Here are the top reasons why you need to paraphrase content:
Avoid plagiarism: One of the main reasons why you need to paraphrase is to avoid plagiarism. With paraphrasing, you make use of your own words and interpretation of the text that you have read.
Proper citation: When you use sources that are not yours, you need to give credit and proper citation. This is done to respect the author's work and since any published text is copyrighted, you have to be mindful of the fact that you need to know how to properly cite an author's work. Apart from citation styles, paraphrasing is also used.
Paraphrasing is a skill that allows you to be analytical and really understand the content that you are reading. If you can paraphrase, not only do you avoid plagiarism. You can also use it for your own analysis.
Most Common Difficulties in Paraphrasing Website Content
Putting content in your own words: When using material from writing sources, you should be sure to provide a clear citation and write information using your own words.
Consider what you want to say about the content: You have to understand the material, you consider what you want to say and how each one is related to each other.
Processing of the text: Processing the text helps to ensure that your text is relevant to the task you have been assigned.
Provide citation as well as a quotation: Even if you provide a citation, but you need to use quotation marks to indicate that the text is copied word by word.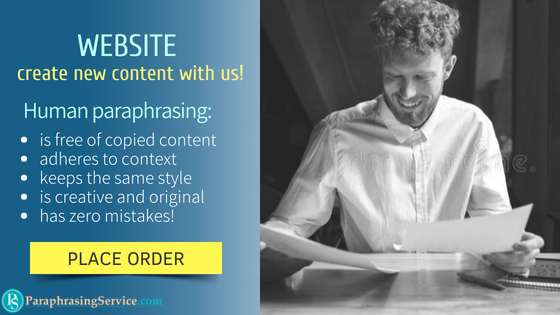 5 Great Tips on How to Paraphrasing Website Content
In a paraphrase, author's ideas are restated in your own words. Aside from using the author's key terms, you also use most of your own sentence structures and words. Included in-text citation are: last name of the author and (for APA style) the publication year.
Alter a word from one part of speech to another or use a synonym of the main words.
Change numbers and percentages to different forms.
Reverse word order: as changing from active voice to passive voice or transferring modifiers to varying positions.
Use different connecting words and attribution signals.
Vary the structure of the sentence using different definition structures.
A website is a vital component of your business and without one your business might not profit. If you wish get contents from other sites, you should be very careful not to commit plagiarism. That said you should choose someone who will be paraphrasing website for you. Do you want to know why you should get paraphrasing website services?
Why Hire Paraphrasing Website Service
Duplication is unforgivable. Take note that you would not like it if a website owner would sue you for copyright issues. Creating contents for a website is not easy and it would be fair that you do not copy and paste their contents. The same applies to you. You will not like someone to steal your articles and blogs and other contents, right? If so, you should not do the same to other websites. No matter how great their content is and that you want to get that for your site, be wary! It will result that your site might be shut down and blacklisted online especially by search engines.
When that happens, you could not promote your products and services and that could result that you won't make any sale at all. If you would like to reach out more people to buy from you, ensure that your website is well put up including its contents such as blogs and articles. That said it would help that you hire paraphrasing website services.
How to Hire Paraphrasing Website Service
Check their length of stay in the business. Paraphrasing is not an easy task and hiring an amateur definitely would not help. Hire a service provider that has years of experience in the industry. Having that said, you should make sure that you are getting only the best people for paraphrasing.
Get their rates. Hiring their services doesn't mean that you need to burn a hole in your pocket. It will never help if you would spend a big chunk of your business budget for paraphrasing since it is not the only thing you need to promote your site.
Research further. Never hire a service provider without learning much about them.
Get Help Only from Top Paraphrasing Website Companies
Our online rephrase services are carried out by professional writers. Their impeccable English writing skills and rich vocabulary help us deliver high-quality content. We also work with professional and experienced editors to ensure every paper we deliver is ready for submission. Thanks to the expertise of our team, we can provide a wide range of services. Besides a paraphrasing service, we also offer writing, proofreading, and editing services.
These are great features of our paraphrasing services:
We rewrite and improve every sentence found in the document using English that is appropriate, accurate and clear English, not to include citations and quotations.
We improve your work so the tone fits your purpose, whether it is academic or business-oriented.
We check references to ensure that they are the appropriate, accurate and right format.
We provide plagiarism report of corrections made on a separate document to include any more recommendations for the coming work.
Benefits Using Our 100% Reliable Help
Now you have all the time to get this job done and you will have peace of mind as you left the job to the most reliable experts:
Saves time: Our services are done by experts who will ensure that even that short deadline is met and that customers are getting the best.
You save money: A good service is a cost-saver as you save both time and money as well as have your paper done by experts.
Professionalism: Since not all people are writers so this is the main reason why you will want to get help because of the professional touch they gave in servicing these important papers to paraphrase.
Other worthwhile services: You can use the free plagiarism check, unlimited revisions of work if you are not satisfied, additional research if you need more info.
Check out our services and hire only the most suitable people to do online paraphrase help for you. Get help online now!
Experience the benefits of using professional paraphrasing service!